This is the JP Fez Ad for chariot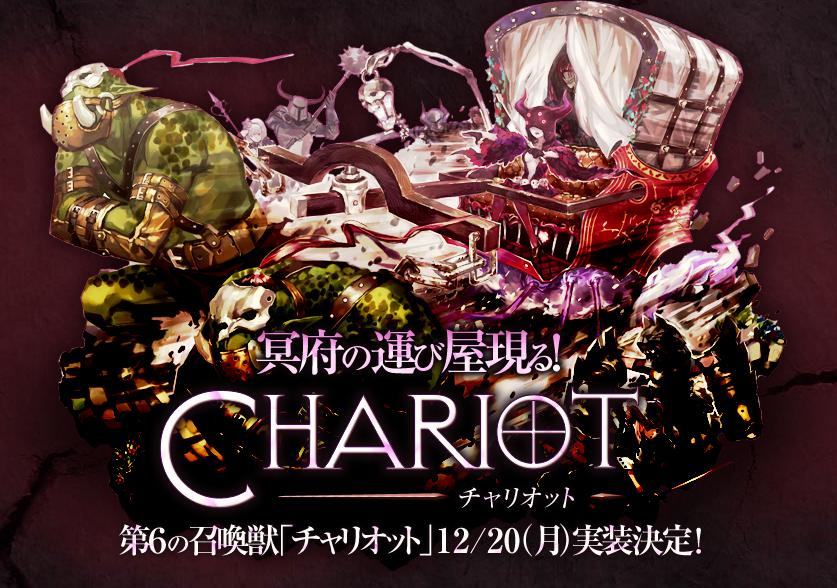 Brief interpretation:
Chariot is a summon with ability to convoy multiple infantry units.
By utilizing it's high mobility, you will be able to transport manpower in front line with brand new strategy.
Specialty:
・Amphibious Assault - Convoys multiple infantry units
・High Mobility - The closer to your own keep/castle, the higher mobility your Chariot will have
・Attack Skill - Within your own territory, chariot will be able to use attack skill, and the infantry units on Chariot will have special shooting skill to protect the chariot
Sounds interesting!
my understanding
looks like TDD1 the
強襲揚陸艦
Chariot
Summoning From: Castle/Keep
Summoning cost: 20 Crystals
Number of possible concurrent summons: no limited
The maximum number of crew: 5
Boarding costs: none
How to Ride: push [ride icon] appear closer to chariot
How to get off(crew): push [get off icon] displayed in the lower right, or select target menu "dismiss summon"
(operator): push [eject icon] displayed in the lower right, to force getting off all infantry is riding(this icon is displayed when operators Pw reaches 0)
----------------------------
Method of operation
W: Move Forward
A: Turning Left
D: Turning Right
S: Braking
Spacebar: Jump
Mouse: Changing Perspective(Vertical only)
After summoning Chariot, your Pw will continue to consume.
You cant move when your Pw is 0 and you are riding infantry.
By getting off the infantry, you will be able to move again.
You cant ride infantry when your Pw is 0.
You can recover Pw automatically when you are in your keep/castle territory.
Chariot will accelerate progress, while a constant speed.
Turning and Braking will slow down.
You will stop when you slow down to a constant speed.
--------------------------------
------->CLICK THIS LINK FOR THE OFFICIAL SITE INFO <------